~ Welcome to Our Stunning Paradise in Upstate South Carolina! ~
National Geographic best described on the cover of their special edition why we have CONSTANT beautiful clean, clear water in Lake Jocassee & Lake Keowee. Bottom Line: our waters flow through, "Pristine Locations & Unspoiled Environments." When you search for Lake Keowee or Lake Jocassee area homes or land, you will find, as our clients have found, that we put your interests first…
Testimonial: "I have been a REALTOR® in Florida for 31 years so I was very careful in selecting an agent to help us find property in the Carolinas. We were extremely blessed to find Carol and Doug. I was immediately impressed with their professionalism. They simply possess the most unique combination of personality and capability I have seen in this business. Our real estate needs were challenging. We were told that it didn't exist and were convinced that it was not to be. Carol and Doug were willing to travel a little farther and found the perfect property in a day's time. When we were ready to sell that property, they were there for us again and accomplished the task in short order. We are customers for life!"

Sharmon Hill, Sales Manager, Century 21, Avon Park, Florida
Lake Keowee is a cocoon of beauty at the foothills of the Blue Ridge Mountains in upstate South Carolina, the Golden Corner! It has pristine emerald waters and layer upon layer of dramatic mountain views as a backdrop. Lake Keowee has 18,500 acres of clear, clean, deep mountain water and 300 miles of shoreline. We are blessed with a mild climate: long springs and falls, mild winters and moderate summers. Golf is a four-season sport on our championship golf courses. People enjoy boating on Keowee all year, also. Lake Keowee is a spectacular mountain lake. Compared to surrounding lakes, Keowee is virtually insensitive to drought due to water supply from lakes to the north. The water stays deep! The nearby Blue Ridge mountain rivers and lakes to the north, such as Bad Creek reservoir and Lake Jocassee, make all the difference!
Doug Patterson chosen Lake Expert to narrate video w/Sandra Jones, Exec. Dir., Oconee Chamber
Location, location, location! Nearby cities include Greenville, Asheville, and Atlanta. You are within 15 minutes of many amenities. Take in a Clemson football game, go shopping, enjoy fine dining, go hiking to the waterfalls, or simply take a scenic mountain drive through upstate South Carolina. Lake Keowee offers it all. Just south of Lake Keowee is 56,000 acre Lake Hartwell — one of the largest man-made lakes east of the Mississippi. It is filled in part by the clean mountain waters of Keowee River and the Tugaloo River. There are many lakefront communities that we can show you there as well. We are close to both Clemson and Furman Universities, forty miles from the Appalachian Trail and within an hour's drive of over 200 stunning waterfalls. Nearby Highlands and Cashiers NC give us the best of both worlds; the majestic mountains and the emerald waters of Keowee and Jocassee!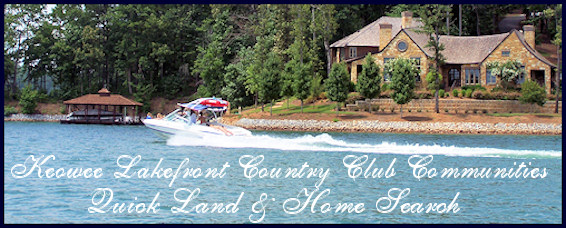 Are you thinking of building a lakefront home on Lake Keowee?
The Pattersons and leading Keowee custom home builders have the combined talent and years of experience to take you through the entire process smoothly. These builders use Green Building practices to conserve on materials, energy, and construction site impact. As REALTORS® we find it important to have builders of high integrity as part of our team. You will be part of that team. Together we can help you choose a buildable home site. When we have narrowed down your land choices we will ask the builders of your choice to walk it with us to make sure it is a good all-around fit for your dream home AND your investment portfolio. Visit our Keowee Custom Builder page for Custom Home Plans by Southern Living®, Frank Betz, Stephen Fuller, Donald Garner, and Johnston Design Group.
If you'd rather buy an existing home anywhere in Oconee, Pickens or Anderson Counties, we can assist you in choosing the right community for your needs and lifestyle. Mountain Lake Paradise Realty is NOT affiliated or employed by any subdivision association, developer or builder. We are an independent brokerage firm. We truly look forward to meeting with you.
Quality of life is about peace of mind. If you are buying, I want to be your buyer's agent. When you are ready to buy, make sure your agent is on your side. If you are building, make sure your agent also knows DIRT: what topography lends itself to a cost-effective build for your custom home! Don't let this be a price-prohibitive mistake down the road. Let me help you find the best lakefront lot for your new home.
Our VIP Property Search form saves time and gives you valuable cutting edge information. You don't need to spend endless hours browsing through hundreds of listings that may not even be in an area that meets your needs. Tell us what you want by completing the form. We'll do a customized search for you and send you a meaningful selection of properties that will make good use of your time. After that, you will receive immediate updates directly from the MLS Hot Sheet of newly listed properties (including price changes) that match your criteria.