~ National Geographic says… ~
National Geographic says that our area is home to the 9th of, "
50 of the World's Last Great Places
".
"Experience Pristine Locations ~ Discover Unforgettable Landscapes ~ Explore Unspoiled Environments"
National Geographic says that our area is home to the 9th out of, "50 of the World's Last Great Places: Destinations of a Lifetime." We have one of the great wild places on our planet; it is an exciting place to be. National Geographic best described, on the cover of their special edition, why we have CONSTANTLY beautiful, clean, clear mountain water in Lake Jocassee and Lake Keowee. National Geographic's 4 page article is titled, "Jocassee Gorges: an intense concentration of waterfalls." The Jocassee Gorges run from near the rushing, white water, Chattooga River at the GA/SC line eastward to Jones Gap near U.S. Hwy 25 that runs between Greenville and Asheville, and into North Carolina. There are state parks, protected forest and management areas that protect this treasured area for much of its length. These pristine waters flow through Northern Oconee County's Devil's Fork State Park, Pickens County's Table Rock State Park and Greenville County's Jones Gap State Park. We are blessed to be the home of these stunning Jocassee Gorges! Through these pristine Gorges, cool, clear mountain waters flow from the rivers of the Blue Ridge Escarpment into Lake Jocassee and Lake Keowee (visit our Lake Photo Gallery). The article is not available on-line, but below are 2 summaries and a link to National Geographic where you can purchase this special edition. This is attracting worldwide attention to our beautiful area. I'm sure you would agree, it is hard to imagine the total impact of how this could affect property values. Order this special edition directly from National Geographic.
This Rare Phenomenon inspired National Geographic to name this One of the World's Last Great Places
This is an amazing creation that borders the Eastern Continental Divide. The north side of Lake Jocassee is in Transylvania County, NC which is one of the wettest areas in the US; it gets an average of 90 inches of rain per year (Seneca only gets 53)!! It is the home to Gorges State Park. The moisture of the Gulf of Mexico makes it way to the mountains. It hits the Blue Ridge escarpment at the Gorges like a back stop - like a wall that just stops the moisture. This huge influx of water from this concentrated area is one reason why Jocassee and Keowee constantly have such pristine, clear, emerald water. Watch these amazing videos below (left) to experience and understand this natural wonder. Jocassee Gorges is a great and nearby place to visit but we love living in the beautiful Lake Keowee area so we don't have to battle the ice and snow!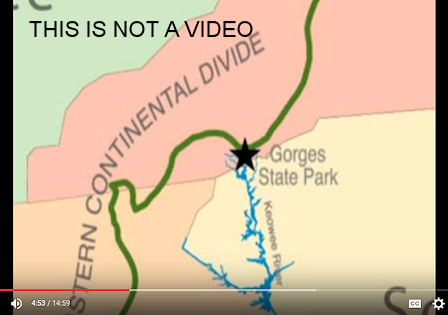 Ken Sloan, executive director of the Mountain Lakes Convention and Visitors Bureau, was quoted by The Anderson Independent-Mail newspaper as saying, "This will draw tourism; it's good for Realtors and it's good for overall economic development. As a tourism marketer, it's really one of those things you hope for but never quite believe will just drop out of the blue."
Image below from South Carolina Department of Natural Resources edited to remove copyrighted image
Image below from Mountain Lakes Convention & Visitors Bureau
On this site are a few of our Featured Listings that will give you insight into, not only the homes, but also this beautiful area. You will find extensive videos, visual tours, maps, photos and links that we hope you will enjoy and know you will find informative.
"I have really enjoyed getting to know the two of you and I greatly appreciate the work you have done. The photography, planning and marketing you did was meticulous. As an interior decorator, I have an eye for design, also. I appreciate the time and talent you put into your marketing. You even had a babbling brook sound in the background on the Visual Tour and had a fire in my fireplace for the photographs and video. By opening the windows and French doors when you took the video, you captured the sounds of my water garden! I had my house on the market for quite a while before meeting you and had very few showings. The global marketing through YouTube videos and the detailed description of the estate were very impressive. This had not been done before. Your efforts brought me many showings and now a buyer. Over the years my listing had as few as 8 photos - never more than 6 of the home's interiors sometimes less. Bottom line - I didn't know that more was available to me. You were true professionals and I really appreciate that.​ Doug and Carol thank you for your honesty. I look forward to an ongoing relationship with you and will recommend you highly to my friend​s.​"
Judy K.
SOLD: Jocassee Gorges River Lodge $725,000
Thirty acre riverfront estate. Timber-built 3 bed, 2½ bath, 3,300 sq ft custom craftsman home on the banks of the Eastatoee River. Enjoy trails, fly fishing, & kayaking to Lake Keowee. Hear the rushing river from almost every room. Details & panoramas on Tour.
"I would like to take a moment to recommend Carol and Doug to anyone selling or buying a home in the Lake Keowee area. From the beginning of the process to the final closing I found the Pattersons to be detailed oriented, very responsive, and conduct their business with complete integrity. The result was a home sale that far exceeded our expectations!"
Bryan G., Customer Builder and part owner
SOLD: Creekfront Jocassee Gorges Home $399,900
How many people can say they live in what National Geographic says is a Destination of a Lifetime? Five bed, 3½ bath. Surrounded on 3 sides by pristine creeks and just a short walk from picturesque 95 foot Twin Falls!
[This home sold in 30 days. Due to Winter conditions, there was no opportunity to create a custom video.]
Thank you for selling our waterfront home! It had been on the market for several years with no offers. Within 30 days of listing with you, we got a full price offer! A Keowee custom builder friend, who also had a custom home in the Jocassee Gorges, was very satisfied with how you marketed and ultimately sold their waterfall estate as well. It also had been on the market for several years before you listed it.
"The two of you have such love and extensive knowledge about this Lake Keowee and Jocassee Gorges area. It really counted in your Global marketing. You truly have a way of selling the "romance," as you say. I have been a custom builder in the area for 35 years so I have seen it all. Your suggestions and attention to detail were appreciated. Doug is such a computer Genius!!! Of course, with you, Carol, at his side. I'm glad Marlene's summertime photos were an enhancement to the wintertime professional photography you did. Your creative babbling brook sounds really helped it come together. It was a pleasure working with professionals such as yourselves."
Ray and Marlene Chandler, Powdersville, SC