~ Why should you use a Buyer's Agent? To have a Professional on Your Side. ~
Buyer's Agent = Only Representing the Buyer's Interests
Buyer's Agents should want you to know
The Good, Bad and Ugly

!
This is a sample of a

Buyer Preview video

we make for out-of-town Clients.
Today's market often demands that Buyers take quick action without seeing a home in person.

Just in case you see something that may be just the home you want, these videos will be your eyes and ears when you can't be here. When there is road noise or power lines, we will tell you. We can also send you a topographical map. Our Using County Topo Maps page will teach you how to create these maps, if you prefer to do it yourself. We find that our Clients also like to use our Lakefront Communities page so they can gather more information on where the property is located, what amenities are in the community, etc.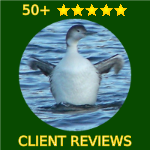 The Pattersons have lived and loved this mountain lake lifestyle since 2001 and it shows! They are owners at the casual waterfront club community of Keowee Key. Doug and Carol are serious professionals that have a proven track record starting in 2004 of creating a WIN-WIN for their clients here on the Keowee. Their Client Testimonials will assure you of that. They are passionate about helping folks find lake property that suits their lifestyle and they all have fun doing it.
Let The Keowee Lake Team work on your behalf, providing independent representation to help you find, evaluate and negotiate for your new home in the community that best suits your investment portfolio and your family's lifestyle. Working through a Buyer's Agent will not cost you more than going directly to the developer or a listing agent, and it may save you money. Allow us the privilege of showing you homes or land in our pristine lake area communities, providing objective advice, that will best suit your family's needs.
Buyer's Agents represent only the interests of their buyer clients. If you don't have a written Buyer's Agency contract, the agent working with you is not working for you. That agent is a neutral transaction brokerDon't tell that agent anything you don't want a seller to know!
Buyer Beware!

Some agents keep their listings

off

most Property Search sites by changing "On Internet" from YES to NO in the MLS. We don't want you to miss your perfect property! Call or use our VIP Property Search to get ALL listings.
Brokers Doug & Carol Patterson honored as Trillium's 2004 "Preferred Brokers of the Year"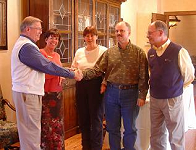 They were the high-selling Brokers from the Cashiers-Highlands area in this prestigious 2,000 acre Lake community in the nearby Blue Ridge Mountains. This luxury community features a 4½ star Golf Digest rated course.
Since 2001, Doug & Carol have lived in the Lake Keowee area. For many years, they worked in Cashiers and on Keowee before deciding to specialize in the Keowee area. They can refer you to experienced, knowledgeable agents in Cashiers & Highlands if you have an interest there, also.
Buyer Value Proposition
A Buyer's Agent can advise you on contingencies to add to an offer. For example, I might advise you to get an excavator's opinion on the costs to prepare a lot for a foundation if it looks like it may be expensive. Would a listing agent do that? Probably not. It is the listing agent's job to protect the interests of his client, not your interests. If you give me the privilege of being your Buyer's Agent, I can work totally on your behalf!
These are the Top Service areas we provide to buyers.
Work with you to analyze your wants and needs so you get a clear picture of your ideal home or land. This will save you a lot of time and effort (not to mention driving around).
If you plan on financing, we help you get the process started and find you the best deal.
Provide community information.
Organize and schedule a property search process, including updated listing information and showings.
When making an offer, provide comparable property information (if any) to help you establish true market value. Complete all needed paperwork. Advise on terms and conditions.
Present the offer and negotiate.
After you select vendors (home inspectors, attorney, pest control, etc.) coordinate and schedule their work.
Prepare for the closing, including consultation and ensuring documents are prepared.
Review closing documents and resolving last-minute issues, then completing the closing.
Assist with post-closing issues, if any.
We do not abandon you after the sale. Many people kiddingly say, "This is how you make friends!" We enjoy helping you meet people in the area who have similar interests. We are happy to share our "secret places" with you. As you will see on our Highlands & Cashiers and Waterfalls pages, we enjoy people and we enjoy helping them make the most of the beautiful lifestyle we have in this area.
Being an unrepresented real estate buyer isn't much more comforting than being unrepresented in court. You have several options when buying real estate:
Transaction Brokerage. Since 2017, this has been the default arrangement. A real estate agent, in the absence of any other written agreement, does not represent the interests of either party in a transaction; he simply acts as a neutral referee trying to get the parties to come to an agreement. The agent does not advocate for either party over the other and cannot make recommendations or negotiate. However, a transaction broker still must tell you if he knows of any problems with the property or an inability of the other party to complete the sale (called material facts).
Use a REALTOR® as a Buyer's Agent. You get advice, negotiating power, and help through all the paperwork and inspections. This agent works for you only, and you don't pay extra for this service.
Deal with the seller's agent. Obviously, you can't count on the seller's agent to help you get a good deal. He has a legal obligation to get the best deal for his client, which means the worst deal for you. Also, regardless of what some buyers think, you don't get a reduction in commission by going to the seller's agent; the seller determines the commission amount. Not using a REALTOR® can actually costs you thousands more.
Similar to Buyer Agency is Designated Agency. Here you have a listing agent representing the seller, but another agent in the same firm representing the buyer using a Buyer Agency contract. State law says this is full representation for both parties, but you must be comfortable with both agents being in the same company and working for the same Broker-in-Charge (who actually owns the listing).
Use a REALTOR® as a Dual Agent. This is a listing agent who also represents the buyer with a Buyer Agency agreement. Both parties must also agree to this arrangement with a Dual Agency contract. You get help with all the paperwork and inspections, but no negotiating assistance and no advice. This agent must protect both parties without putting the interests of one above the other. Depending on your experience, you may be comfortable with this option. Confidentiality is maintained for both parties.
Buy directly from an unrepresented seller: For Sale By Owner (FSBO). This is truly flying blind for both buyer and seller. The seller has no firm basis for the price he's asking. He doesn't want to pay commission, and you expect to get a discount from him for that reason. There is nobody to guide you through the required forms and contracts. There is also no one to help you establish the value of the property (or how to negotiate repairs) so you probably end up paying too much. Not using a REALTOR® can actually cost you thousands more. FSBO sales involve more work for the buyer's agent since these sellers generally don't know what they need to do to complete the sale; they need extra help. When we work with you to purchase a FSBO property, some sellers will pay our commission but some will refuse. In that situation, we will ask you to pay the commission but will help you negotiate a price that shifts that expense back to the seller. We are professionals working on your behalf.
Understanding Agency
Understanding agency simply means knowing who works for you and who doesn't. Knowing the difference can mean money in your pocket. The South Carolina Real Estate Commission wants you to know how agency relationships work between agents and the public. To that end they have published a short brochure that explains the different types of agency relationships available. I will present and explain this brochure to you at our first meeting, or by phone and email if needed.
You can download the Brokerage Relationships brochure from the South Carolina Real Estate Commission.
Protect Your Interests!
As a buyer your mindset will be different than when you are selling. Once you have decided to make a serious offer on a property, there are things you must do to make sure you are getting a good property at a fair price. These things are not required by law, but are essential to make sure you don't make a $500,000 mistake. Remember that no house or lot is perfect, so don't demand perfection before you'll make an offer. High expectations often kill good deals. That's why we have contract contingencies and inspections.
Get a survey. Know what land you are buying. Sometimes what you think you see is not nearly what you get.
Get a home inspection, including a septic test. There could be invisible problems.
Get an appraisal - even if you are paying cash. You may want to sell this property some day - hopefully for a profit. Remember, you make your money when you buy, not when you sell.
Have a REALTOR® represent you with a written Buyer Agency contract. Remember, if the agent working with you doesn't represent you by contract, she works for the seller.
The seller wants to know you are a serious buyer before taking his property off the market for you, so be sure that you have a lender who has money to lend. In today's banking environment some do not.

NOTE: When you get a property under contract, we always recommend that you deposit your earnest money with the closing attorney of your choice. It will be protected in a trust account and held there until the closing. Mountain Lake Paradise Realty does not hold earnest money.