~ Lake Keowee Custom Home Builders ~
Custom House Plans for Your Lake Keowee Home Developed by:
Are you thinking of building a custom home on or near Lake Keowee? We have several excellent custom home builders in our area. They have built homes for many of our clients so we feel confident in recommending them. We work very closely with them to help determine which land is right for you and your new home. Together we will walk your potential land and will examine the topography which will determine the location of home site, placement of the driveway and septic. It is important to us that you have a, "fine building experience." Please call us at 864.238.3176 or use our VIP Property Search form.
We understand that your time is valuable. One of our goals is to not only have you enjoy your trip here, but to make your time with us quality time. "Let your fingers do the walking!" Have you ever wanted to find out how steep a lot is before you go and see it in person? That information is available on County web sites. Often, a low price for a lot looks like a steal. Beware that this is usually done to compensate for the expensive foundation you will need because of steepness or a gully! Remember, this is a mountain lake with communities built on the tops and slopes of mountains and hills. Most counties now have a GIS (Geographic Information System) that allows you to see the topography of a lot. Learn how to use that system on our Using County Topo Maps page. Please keep in mind that we are more than happy do this for you. Many people, though, enjoy learning and doing this as part of their due diligence.
Build This Home for Approximately $255,000!
This home design is The High Pointe by Donald A. Gardner. 1,544 square feet plus a bonus room over the garage.
It can be built for approximately $255,000 (in 2020), depending on options and foundation. This includes granite counter tops, fiber cement board siding, and hardwood floors. This estimate comes from one of the top custom builders on Lake Keowee. To arrange a meeting with them, give us a call. They are dependable, quality builders with wonderful recommendations.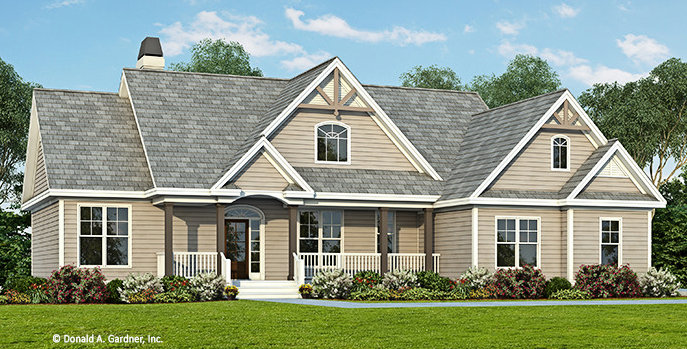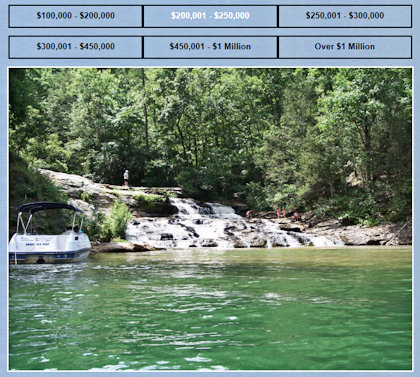 Tips for Buying Lake Keowee Land
(A builder can help with all of this)
Green water at the shoreline is deep; red or peach color is shallow. A permit or dock in place does not guarantee deep water. Duke doesn't consider depth when granting permits.
A dock contractor can tell you if you are likely to get a permit from Duke for the dock you want.
Steeper land means a more expensive foundation.
Account for setbacks to be sure your house will fit. Counties have minimums but subdivisions may set their own! Our Lakefront Community pages have covenants, slideshows and videos, maps, plats, amenities and property searches.
Most communities require Architectural Control Committee review of plans. We're sure you would agree that this protects your investment.
Review the Duke Energy Shoreline Management Guidelines and Vegetative Buffer rules on our Lake Gallery page.
On this site are a few of our Featured Listings that will give you insight into, not only the homes, but also this beautiful area. You will find extensive videos, visual tours, maps, photos and links that we hope you will enjoy and know you will find informative.
SOLD: Jocassee Gorges River Lodge $725,000
Thirty acre riverfront estate. Timber-built 3 bed, 2½ bath, 3,300 sq ft custom craftsman home on the banks of the Eastatoee River. Enjoy trails, fly fishing, & kayaking to Lake Keowee. Hear the rushing river from almost every room. Details & panoramas on Tour.
"I would like to take a moment to recommend Carol and Doug to anyone selling or buying a home in the Lake Keowee area. From the beginning of the process to the final closing I found the Pattersons to be detailed oriented, very responsive, and conduct their business with complete integrity. The result was a home sale that far exceeded our expectations!"
Bryan G., Customer Builder and part owner
Example Lot: Asked $375,000, SOLD $365,000
Riverstone Community. Flat and gently-sloping 0.78 acre lot is perfect for a walk-out basement and easy driveway entry. Great lake view. Covered dock in deep water! Underbrushed and cleaned for easy viewing and building. Buy an inexpensive Amenity Lot in Keowee Key for the great amenities just minutes away.
Stay informed on sales trends on our Real Estate Sales Statistics for Lake Keowee page.