~ Why should you choose Mountain Lake Paradise Realty as your REALTORS®? ~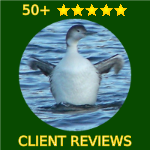 We are like-minded, investment-focused real estate professionals dedicated to meeting the needs of buyers and sellers of upscale mountain lake and golf course community homes and land, consistently selling millions of dollars worth of properties each year.
Carol and I independently own Mountain Lake Paradise Realty. She was first licensed in 1988, Doug in 2004. We have both had Broker's Licenses. Doug is the Broker In Charge. To your benefit, we have maintained our many agent contacts that we have cultivated over the many years in the business. With this, we stay on the cutting edge of upcoming listings. We are a Christian based company. Our many client testimonials reflect that we are very professional and do not push our personal beliefs. We are simply happy to live and work by biblical principals.
The Patterson Family
Doug and Carol moved to the Lake Keowee area in 2001. They are owners in the casual country club community of Keowee Key® and represent buyers and sellers on Lake Keowee and in the surrounding area exclusively. Although their main focus in the beginning was selling in Cashiers, NC (while living and playing in the Lake Keowee area), it became evident that their buyers were also interested in owning on Lake Keowee, so they began selling this lake as well in 2004. For years now they have given their full attention to Lake Keowee. Their clients say that Carol and Doug put the clients' interests first. Your time is precious and they respect that. You will enjoy your adventurous search for your family's new lakefront retreat. Carol and Doug will even share their secret places with you. Call them at 864.293.2853.
Brokers Doug & Carol Patterson honored as Trillium's 2004 "Preferred Brokers of the Year"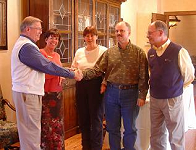 They were the high-selling Brokers from the Cashiers-Highlands area in this prestigious 2,000 acre Lake community in the nearby Blue Ridge Mountains. This luxury community features a 4½ star Golf Digest rated course.
Since 2001, Doug & Carol have lived in the Lake Keowee area. For many years, they worked in Cashiers and on Keowee before deciding to specialize in the Keowee area. They can refer you to experienced, knowledgeable agents in Cashiers & Highlands if you have an interest there, also.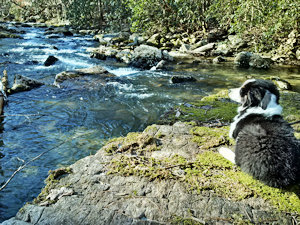 Carol & Doug have two beautiful Miniature Australian Shepherds named Sadie Rose and Annabella Rose. They are all avid boaters and hikers. They are passionate about sharing the beauty of this area as you will see from their photo gallery.
The Pattersons' testimonials are the Bottom Line as to who they really are and why they are successful REALTORS®. They are dedicated REALTORS® with a passion to be the best they can be for each and every client who entrusts them with this very important endeavor regarding their investment portfolio. Doug and Carol have an extensive background in marketing as you will see by visiting their Marketing Your Home page. They are the team leaders of the Keowee Lake Team.
Carol started visiting these mountain lakes as a teenager. Originally from Sarasota, Florida, Carol is the daughter of one of the first Sarasota real estate developers who built over twenty subdivisions there. She grew up working with her father in the Real Estate development business! She began selling mountain lake real estate in 1988 and has been a broker in NC. Rutledge Livingston, former Sales Manager of The Reserve at Lake Keowee, was one of Carol's trainers for first few years. She sold several million dollars worth of properties her first year becoming Rookie of the Year. Although they have lived in the Keowee area since 2001, Carol and Doug joined with Keller Williams Cashiers, NC in 2004 and also had their SC licenses with Keller Williams in SC for years to be able to sell on Keowee at the same time.
Carol's previous experience prepared her well to assist her clients in staging homes for sale and selecting homes that complement their unique tastes and lifestyles. She has an extensive background in ready-made and custom clothing design, sales and trade shows. She was also very active in the equestrian fashion world, which included traveling, designing, manufacturing and marketing of ready-made and custom clothing. Through this, she became known worldwide for her equestrian designs and for her ability to train and show horses. She lectured five times at the All-American Quarter Horse Congress (the world's largest horse show) on the Principles of Design for Horse and Rider and also lectured at Pennsylvania State University on design. One night, Carol had a dream in full color of a garment technology system that would revolutionize the custom clothing industry. Her husband, Doug, with his computer background (starting with the Coast Guard in 1981) developed the software that made the design system work with modern garment manufacturing equipment. Together, this team was awarded a U.S. patent. The Master Model system has been been written about in several articles in major garment industry magazines.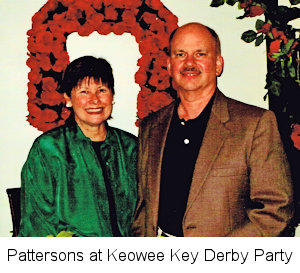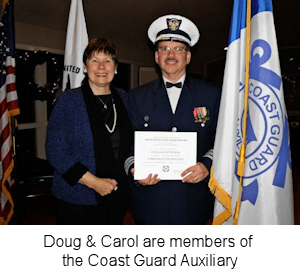 Doug has a B.S. in Economics and Management from the U. S. Coast Guard Academy. He received his real estate licenses in NC (Broker) and SC many years ago.
Doug comes from three generations of research and development engineers at the Eastman Kodak Company; he grew up with photography. This experience helps the Pattersons provide excellent photography service to their listing clients. Adding drone photography came naturally to him. Doug is a US Coast Guard Veteran - a former commissioned officer - and is retired from the US Coast Guard Auxiliary. He served as Flotilla Commander twice and Vice Commander once. Doug is also the Emergency Coordinator for Oconee County ARES (Amateur Radio Emergency Service), a member of the Oconee County CERT (Community Emergency Response Team) and RACES (Radio Amateur Civil Emergency Service); the last two fall under FEMA and the U.S. Department of Homeland Security. Carol also served in the Coast Guard Auxiliary. Both Doug and Carol are trained in the FEMA Incident Command System. As owners in Keowee Key, they are active in the "Honoring Their Service" event each year. Both of their fathers were World War 2 veterans.
Doug and Carol have been not only business partners but have also been happily married since 1991. In that time Carol and Doug have been hands-on in the building of their three homes. Carol is also a member of the Coast Guard Auxiliary with Doug. They are also members of the Friends of Lake Keowee Society (FOLKS), an organization which is very active in protecting the beauty of our lake. Call Carol and Doug at 864.238.3176.